Warning
: preg_match(): Compilation failed: invalid range in character class at offset 4 in
/home/mjojaznb/domains/foodfashionblog.com/public_html/wp-content/plugins/lightbox-plus/classes/shd.class.php
on line
1120
Warning
: preg_match(): Compilation failed: invalid range in character class at offset 4 in
/home/mjojaznb/domains/foodfashionblog.com/public_html/wp-content/plugins/lightbox-plus/classes/shd.class.php
on line
1120
Warning
: preg_match(): Compilation failed: invalid range in character class at offset 4 in
/home/mjojaznb/domains/foodfashionblog.com/public_html/wp-content/plugins/lightbox-plus/classes/shd.class.php
on line
1120
Warning
: preg_match(): Compilation failed: invalid range in character class at offset 4 in
/home/mjojaznb/domains/foodfashionblog.com/public_html/wp-content/plugins/lightbox-plus/classes/shd.class.php
on line
1120
Warning
: preg_match(): Compilation failed: invalid range in character class at offset 4 in
/home/mjojaznb/domains/foodfashionblog.com/public_html/wp-content/plugins/lightbox-plus/classes/shd.class.php
on line
1120
Warning
: preg_match(): Compilation failed: invalid range in character class at offset 4 in
/home/mjojaznb/domains/foodfashionblog.com/public_html/wp-content/plugins/lightbox-plus/classes/shd.class.php
on line
1120
Warning
: preg_match(): Compilation failed: invalid range in character class at offset 4 in
/home/mjojaznb/domains/foodfashionblog.com/public_html/wp-content/plugins/lightbox-plus/classes/shd.class.php
on line
1120
Warning
: preg_match(): Compilation failed: invalid range in character class at offset 4 in
/home/mjojaznb/domains/foodfashionblog.com/public_html/wp-content/plugins/lightbox-plus/classes/shd.class.php
on line
1120
Warning
: preg_match(): Compilation failed: invalid range in character class at offset 4 in
/home/mjojaznb/domains/foodfashionblog.com/public_html/wp-content/plugins/lightbox-plus/classes/shd.class.php
on line
1120
Warning
: preg_match(): Compilation failed: invalid range in character class at offset 4 in
/home/mjojaznb/domains/foodfashionblog.com/public_html/wp-content/plugins/lightbox-plus/classes/shd.class.php
on line
1120
Warning
: preg_match(): Compilation failed: invalid range in character class at offset 4 in
/home/mjojaznb/domains/foodfashionblog.com/public_html/wp-content/plugins/lightbox-plus/classes/shd.class.php
on line
1120
Warning
: preg_match(): Compilation failed: invalid range in character class at offset 4 in
/home/mjojaznb/domains/foodfashionblog.com/public_html/wp-content/plugins/lightbox-plus/classes/shd.class.php
on line
1120
Warning
: preg_match(): Compilation failed: invalid range in character class at offset 4 in
/home/mjojaznb/domains/foodfashionblog.com/public_html/wp-content/plugins/lightbox-plus/classes/shd.class.php
on line
1120
Warning
: preg_match(): Compilation failed: invalid range in character class at offset 4 in
/home/mjojaznb/domains/foodfashionblog.com/public_html/wp-content/plugins/lightbox-plus/classes/shd.class.php
on line
1120
Warning
: preg_match(): Compilation failed: invalid range in character class at offset 4 in
/home/mjojaznb/domains/foodfashionblog.com/public_html/wp-content/plugins/lightbox-plus/classes/shd.class.php
on line
1120
Warning
: preg_match(): Compilation failed: invalid range in character class at offset 4 in
/home/mjojaznb/domains/foodfashionblog.com/public_html/wp-content/plugins/lightbox-plus/classes/shd.class.php
on line
1120
Warning
: preg_match(): Compilation failed: invalid range in character class at offset 4 in
/home/mjojaznb/domains/foodfashionblog.com/public_html/wp-content/plugins/lightbox-plus/classes/shd.class.php
on line
1120
Warning
: preg_match(): Compilation failed: invalid range in character class at offset 4 in
/home/mjojaznb/domains/foodfashionblog.com/public_html/wp-content/plugins/lightbox-plus/classes/shd.class.php
on line
1120
Warning
: preg_match(): Compilation failed: invalid range in character class at offset 4 in
/home/mjojaznb/domains/foodfashionblog.com/public_html/wp-content/plugins/lightbox-plus/classes/shd.class.php
on line
1120
Warning
: preg_match(): Compilation failed: invalid range in character class at offset 4 in
/home/mjojaznb/domains/foodfashionblog.com/public_html/wp-content/plugins/lightbox-plus/classes/shd.class.php
on line
1120
Warning
: preg_match(): Compilation failed: invalid range in character class at offset 4 in
/home/mjojaznb/domains/foodfashionblog.com/public_html/wp-content/plugins/lightbox-plus/classes/shd.class.php
on line
1120
Warning
: preg_match(): Compilation failed: invalid range in character class at offset 4 in
/home/mjojaznb/domains/foodfashionblog.com/public_html/wp-content/plugins/lightbox-plus/classes/shd.class.php
on line
1120
Warning
: preg_match(): Compilation failed: invalid range in character class at offset 4 in
/home/mjojaznb/domains/foodfashionblog.com/public_html/wp-content/plugins/lightbox-plus/classes/shd.class.php
on line
1120
Warning
: preg_match(): Compilation failed: invalid range in character class at offset 4 in
/home/mjojaznb/domains/foodfashionblog.com/public_html/wp-content/plugins/lightbox-plus/classes/shd.class.php
on line
1120
Warning
: preg_match(): Compilation failed: invalid range in character class at offset 4 in
/home/mjojaznb/domains/foodfashionblog.com/public_html/wp-content/plugins/lightbox-plus/classes/shd.class.php
on line
1120
Warning
: preg_match(): Compilation failed: invalid range in character class at offset 4 in
/home/mjojaznb/domains/foodfashionblog.com/public_html/wp-content/plugins/lightbox-plus/classes/shd.class.php
on line
1120
Warning
: preg_match(): Compilation failed: invalid range in character class at offset 4 in
/home/mjojaznb/domains/foodfashionblog.com/public_html/wp-content/plugins/lightbox-plus/classes/shd.class.php
on line
1120
Warning
: preg_match(): Compilation failed: invalid range in character class at offset 4 in
/home/mjojaznb/domains/foodfashionblog.com/public_html/wp-content/plugins/lightbox-plus/classes/shd.class.php
on line
1120
Warning
: preg_match(): Compilation failed: invalid range in character class at offset 4 in
/home/mjojaznb/domains/foodfashionblog.com/public_html/wp-content/plugins/lightbox-plus/classes/shd.class.php
on line
1120
Warning
: preg_match(): Compilation failed: invalid range in character class at offset 4 in
/home/mjojaznb/domains/foodfashionblog.com/public_html/wp-content/plugins/lightbox-plus/classes/shd.class.php
on line
1120
Warning
: preg_match(): Compilation failed: invalid range in character class at offset 4 in
/home/mjojaznb/domains/foodfashionblog.com/public_html/wp-content/plugins/lightbox-plus/classes/shd.class.php
on line
1120
Warning
: preg_match(): Compilation failed: invalid range in character class at offset 4 in
/home/mjojaznb/domains/foodfashionblog.com/public_html/wp-content/plugins/lightbox-plus/classes/shd.class.php
on line
1120
Warning
: preg_match(): Compilation failed: invalid range in character class at offset 4 in
/home/mjojaznb/domains/foodfashionblog.com/public_html/wp-content/plugins/lightbox-plus/classes/shd.class.php
on line
1120
Warning
: preg_match(): Compilation failed: invalid range in character class at offset 4 in
/home/mjojaznb/domains/foodfashionblog.com/public_html/wp-content/plugins/lightbox-plus/classes/shd.class.php
on line
1120
Warning
: preg_match(): Compilation failed: invalid range in character class at offset 4 in
/home/mjojaznb/domains/foodfashionblog.com/public_html/wp-content/plugins/lightbox-plus/classes/shd.class.php
on line
1120
Warning
: preg_match(): Compilation failed: invalid range in character class at offset 4 in
/home/mjojaznb/domains/foodfashionblog.com/public_html/wp-content/plugins/lightbox-plus/classes/shd.class.php
on line
1120
Warning
: preg_match(): Compilation failed: invalid range in character class at offset 4 in
/home/mjojaznb/domains/foodfashionblog.com/public_html/wp-content/plugins/lightbox-plus/classes/shd.class.php
on line
1120
Warning
: preg_match(): Compilation failed: invalid range in character class at offset 4 in
/home/mjojaznb/domains/foodfashionblog.com/public_html/wp-content/plugins/lightbox-plus/classes/shd.class.php
on line
1120
Warning
: preg_match(): Compilation failed: invalid range in character class at offset 4 in
/home/mjojaznb/domains/foodfashionblog.com/public_html/wp-content/plugins/lightbox-plus/classes/shd.class.php
on line
1120
Warning
: preg_match(): Compilation failed: invalid range in character class at offset 4 in
/home/mjojaznb/domains/foodfashionblog.com/public_html/wp-content/plugins/lightbox-plus/classes/shd.class.php
on line
1120
Warning
: preg_match(): Compilation failed: invalid range in character class at offset 4 in
/home/mjojaznb/domains/foodfashionblog.com/public_html/wp-content/plugins/lightbox-plus/classes/shd.class.php
on line
1120
Warning
: preg_match(): Compilation failed: invalid range in character class at offset 4 in
/home/mjojaznb/domains/foodfashionblog.com/public_html/wp-content/plugins/lightbox-plus/classes/shd.class.php
on line
1120
Warning
: preg_match(): Compilation failed: invalid range in character class at offset 4 in
/home/mjojaznb/domains/foodfashionblog.com/public_html/wp-content/plugins/lightbox-plus/classes/shd.class.php
on line
1120
Warning
: preg_match(): Compilation failed: invalid range in character class at offset 4 in
/home/mjojaznb/domains/foodfashionblog.com/public_html/wp-content/plugins/lightbox-plus/classes/shd.class.php
on line
1120
Warning
: preg_match(): Compilation failed: invalid range in character class at offset 4 in
/home/mjojaznb/domains/foodfashionblog.com/public_html/wp-content/plugins/lightbox-plus/classes/shd.class.php
on line
1120
Warning
: preg_match(): Compilation failed: invalid range in character class at offset 4 in
/home/mjojaznb/domains/foodfashionblog.com/public_html/wp-content/plugins/lightbox-plus/classes/shd.class.php
on line
1120
Warning
: preg_match(): Compilation failed: invalid range in character class at offset 4 in
/home/mjojaznb/domains/foodfashionblog.com/public_html/wp-content/plugins/lightbox-plus/classes/shd.class.php
on line
1120
Warning
: preg_match(): Compilation failed: invalid range in character class at offset 4 in
/home/mjojaznb/domains/foodfashionblog.com/public_html/wp-content/plugins/lightbox-plus/classes/shd.class.php
on line
1120
Warning
: preg_match(): Compilation failed: invalid range in character class at offset 4 in
/home/mjojaznb/domains/foodfashionblog.com/public_html/wp-content/plugins/lightbox-plus/classes/shd.class.php
on line
1120
Warning
: preg_match(): Compilation failed: invalid range in character class at offset 4 in
/home/mjojaznb/domains/foodfashionblog.com/public_html/wp-content/plugins/lightbox-plus/classes/shd.class.php
on line
1120
Warning
: preg_match(): Compilation failed: invalid range in character class at offset 4 in
/home/mjojaznb/domains/foodfashionblog.com/public_html/wp-content/plugins/lightbox-plus/classes/shd.class.php
on line
1120
Warning
: preg_match(): Compilation failed: invalid range in character class at offset 4 in
/home/mjojaznb/domains/foodfashionblog.com/public_html/wp-content/plugins/lightbox-plus/classes/shd.class.php
on line
1120
Warning
: preg_match(): Compilation failed: invalid range in character class at offset 4 in
/home/mjojaznb/domains/foodfashionblog.com/public_html/wp-content/plugins/lightbox-plus/classes/shd.class.php
on line
1120
Warning
: preg_match(): Compilation failed: invalid range in character class at offset 4 in
/home/mjojaznb/domains/foodfashionblog.com/public_html/wp-content/plugins/lightbox-plus/classes/shd.class.php
on line
1120
Warning
: preg_match(): Compilation failed: invalid range in character class at offset 4 in
/home/mjojaznb/domains/foodfashionblog.com/public_html/wp-content/plugins/lightbox-plus/classes/shd.class.php
on line
1120
Warning
: preg_match(): Compilation failed: invalid range in character class at offset 4 in
/home/mjojaznb/domains/foodfashionblog.com/public_html/wp-content/plugins/lightbox-plus/classes/shd.class.php
on line
1120
Warning
: preg_match(): Compilation failed: invalid range in character class at offset 4 in
/home/mjojaznb/domains/foodfashionblog.com/public_html/wp-content/plugins/lightbox-plus/classes/shd.class.php
on line
1120
Warning
: preg_match(): Compilation failed: invalid range in character class at offset 4 in
/home/mjojaznb/domains/foodfashionblog.com/public_html/wp-content/plugins/lightbox-plus/classes/shd.class.php
on line
1120
Warning
: preg_match(): Compilation failed: invalid range in character class at offset 4 in
/home/mjojaznb/domains/foodfashionblog.com/public_html/wp-content/plugins/lightbox-plus/classes/shd.class.php
on line
1120
Warning
: preg_match(): Compilation failed: invalid range in character class at offset 4 in
/home/mjojaznb/domains/foodfashionblog.com/public_html/wp-content/plugins/lightbox-plus/classes/shd.class.php
on line
1120
Warning
: preg_match_all(): Compilation failed: invalid range in character class at offset 4 in
/home/mjojaznb/domains/foodfashionblog.com/public_html/wp-content/plugins/lightbox-plus/classes/shd.class.php
on line
621
Warning
: Invalid argument supplied for foreach() in
/home/mjojaznb/domains/foodfashionblog.com/public_html/wp-content/plugins/lightbox-plus/classes/shd.class.php
on line
628
Warning
: preg_match_all(): Compilation failed: invalid range in character class at offset 4 in
/home/mjojaznb/domains/foodfashionblog.com/public_html/wp-content/plugins/lightbox-plus/classes/shd.class.php
on line
621
Warning
: Invalid argument supplied for foreach() in
/home/mjojaznb/domains/foodfashionblog.com/public_html/wp-content/plugins/lightbox-plus/classes/shd.class.php
on line
628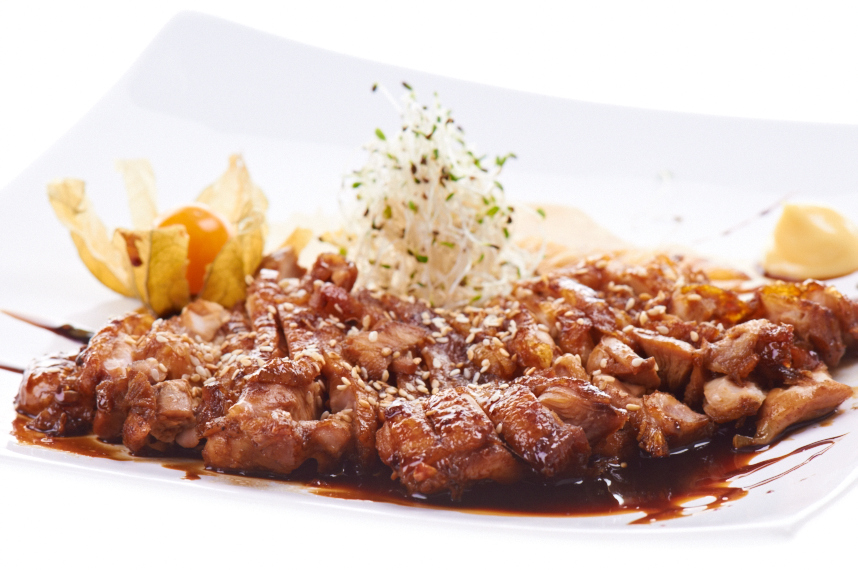 Teriyaki sauce is absolutely divine. Its classical version consists of only 3 ingredients: soya sauce, mirin and sugar. But it has as many versions as people preparing it. I put fresh ginger and orange slices into my teriyaki sauce.
This lovely golden brown shining glaze goes perfect with chicken.
P.S. Mirin is a Japanese sweet sake for cooking, if you don't have it simply mix 3 parts of sake – rice wine and 1 part of sugar.
Teriyaki chicken
50 ml mirin
1 tbsp sugar
50 ml soya sauce
1 chicken tight
1 orange slice
1 cm fresh ginger
1tsp rosted sesame seeds
1 tsp Japanese mayonnaise
some sprots
1 physalis
a pinch of salt
Cook mirin, sugar, orange, ginger and soya sauce  for about 10-15 minutes until the sauce thickens.
Wash chicken tight, remove the bone, sprinkle with salt, fry the meat on a very very well preheated fry pan on each side for a few minutes, first the skin down.
In the end add the sauce and cook for a while.
Sprinkle with sesame seeds, serve with Japanese mayonnaise, sprouts and physalis.
Sos teriyaki, niebo w gębie… Klasyczne połączenie 3 składników: sosu sojowego, mirinu i cukru. Jednak tyle sosów ilu przyrządzających. Ja dodaję do sosu teriyaki imbir i plastry pomarańczy. To moje sekretne składniki.
Gęsty złocistobrązowy lśniący sos do kurczaka! Spróbujcie!
P.S. Mirin to japońska przyprawa składająca się z sake – wina ryżowego i cukru, więc jeśli jej nie macie, to po prostu wymieszajcie sake z cukrem w proporcjach 3:1.
Kurczak teriyaki
50 ml mirinu
1 łyżka cukru
50 ml sosu sojowego
1 podudzie z kurczaka
1 łyżka oleju do smażenia
1 plaster pomarańczy
kawałek świeżego imbiru grubości 1cm
1 łyżeczka uprażonych nasion sezamu
1 łyżeczka japońskiego majonezu
trochę kiełków np. lucerny
1 miechunka
szczypta soli
Sos sojowy, mirin, cukier, pomarańczę i imbir gotujemy przez 10-15 minut, aż sos będzie gęsty.
Podudzie myjemy i usuwamy kość. Solimy.
Kurczaka smażymy z obu stron, najpierw skórą do dołu, przez kilka minut na bardzo rozgrzanej patelni aż będzie mocno rumiany.  Na końcu dodajemy sos i smażymy jeszcze chwilę. Przed podanie imbir i pomarańczę usuwamy.
Posypujemy sezamem i podajemy z japońskim majonezem, kiełkami lucerny oraz miechunką.