Warning
: preg_match(): Compilation failed: invalid range in character class at offset 4 in
/home/mjojaznb/domains/foodfashionblog.com/public_html/wp-content/plugins/lightbox-plus/classes/shd.class.php
on line
1120
Warning
: preg_match(): Compilation failed: invalid range in character class at offset 4 in
/home/mjojaznb/domains/foodfashionblog.com/public_html/wp-content/plugins/lightbox-plus/classes/shd.class.php
on line
1120
Warning
: preg_match(): Compilation failed: invalid range in character class at offset 4 in
/home/mjojaznb/domains/foodfashionblog.com/public_html/wp-content/plugins/lightbox-plus/classes/shd.class.php
on line
1120
Warning
: preg_match(): Compilation failed: invalid range in character class at offset 4 in
/home/mjojaznb/domains/foodfashionblog.com/public_html/wp-content/plugins/lightbox-plus/classes/shd.class.php
on line
1120
Warning
: preg_match(): Compilation failed: invalid range in character class at offset 4 in
/home/mjojaznb/domains/foodfashionblog.com/public_html/wp-content/plugins/lightbox-plus/classes/shd.class.php
on line
1120
Warning
: preg_match(): Compilation failed: invalid range in character class at offset 4 in
/home/mjojaznb/domains/foodfashionblog.com/public_html/wp-content/plugins/lightbox-plus/classes/shd.class.php
on line
1120
Warning
: preg_match(): Compilation failed: invalid range in character class at offset 4 in
/home/mjojaznb/domains/foodfashionblog.com/public_html/wp-content/plugins/lightbox-plus/classes/shd.class.php
on line
1120
Warning
: preg_match(): Compilation failed: invalid range in character class at offset 4 in
/home/mjojaznb/domains/foodfashionblog.com/public_html/wp-content/plugins/lightbox-plus/classes/shd.class.php
on line
1120
Warning
: preg_match(): Compilation failed: invalid range in character class at offset 4 in
/home/mjojaznb/domains/foodfashionblog.com/public_html/wp-content/plugins/lightbox-plus/classes/shd.class.php
on line
1120
Warning
: preg_match(): Compilation failed: invalid range in character class at offset 4 in
/home/mjojaznb/domains/foodfashionblog.com/public_html/wp-content/plugins/lightbox-plus/classes/shd.class.php
on line
1120
Warning
: preg_match(): Compilation failed: invalid range in character class at offset 4 in
/home/mjojaznb/domains/foodfashionblog.com/public_html/wp-content/plugins/lightbox-plus/classes/shd.class.php
on line
1120
Warning
: preg_match(): Compilation failed: invalid range in character class at offset 4 in
/home/mjojaznb/domains/foodfashionblog.com/public_html/wp-content/plugins/lightbox-plus/classes/shd.class.php
on line
1120
Warning
: preg_match(): Compilation failed: invalid range in character class at offset 4 in
/home/mjojaznb/domains/foodfashionblog.com/public_html/wp-content/plugins/lightbox-plus/classes/shd.class.php
on line
1120
Warning
: preg_match(): Compilation failed: invalid range in character class at offset 4 in
/home/mjojaznb/domains/foodfashionblog.com/public_html/wp-content/plugins/lightbox-plus/classes/shd.class.php
on line
1120
Warning
: preg_match(): Compilation failed: invalid range in character class at offset 4 in
/home/mjojaznb/domains/foodfashionblog.com/public_html/wp-content/plugins/lightbox-plus/classes/shd.class.php
on line
1120
Warning
: preg_match(): Compilation failed: invalid range in character class at offset 4 in
/home/mjojaznb/domains/foodfashionblog.com/public_html/wp-content/plugins/lightbox-plus/classes/shd.class.php
on line
1120
Warning
: preg_match(): Compilation failed: invalid range in character class at offset 4 in
/home/mjojaznb/domains/foodfashionblog.com/public_html/wp-content/plugins/lightbox-plus/classes/shd.class.php
on line
1120
Warning
: preg_match(): Compilation failed: invalid range in character class at offset 4 in
/home/mjojaznb/domains/foodfashionblog.com/public_html/wp-content/plugins/lightbox-plus/classes/shd.class.php
on line
1120
Warning
: preg_match(): Compilation failed: invalid range in character class at offset 4 in
/home/mjojaznb/domains/foodfashionblog.com/public_html/wp-content/plugins/lightbox-plus/classes/shd.class.php
on line
1120
Warning
: preg_match(): Compilation failed: invalid range in character class at offset 4 in
/home/mjojaznb/domains/foodfashionblog.com/public_html/wp-content/plugins/lightbox-plus/classes/shd.class.php
on line
1120
Warning
: preg_match(): Compilation failed: invalid range in character class at offset 4 in
/home/mjojaznb/domains/foodfashionblog.com/public_html/wp-content/plugins/lightbox-plus/classes/shd.class.php
on line
1120
Warning
: preg_match(): Compilation failed: invalid range in character class at offset 4 in
/home/mjojaznb/domains/foodfashionblog.com/public_html/wp-content/plugins/lightbox-plus/classes/shd.class.php
on line
1120
Warning
: preg_match(): Compilation failed: invalid range in character class at offset 4 in
/home/mjojaznb/domains/foodfashionblog.com/public_html/wp-content/plugins/lightbox-plus/classes/shd.class.php
on line
1120
Warning
: preg_match(): Compilation failed: invalid range in character class at offset 4 in
/home/mjojaznb/domains/foodfashionblog.com/public_html/wp-content/plugins/lightbox-plus/classes/shd.class.php
on line
1120
Warning
: preg_match(): Compilation failed: invalid range in character class at offset 4 in
/home/mjojaznb/domains/foodfashionblog.com/public_html/wp-content/plugins/lightbox-plus/classes/shd.class.php
on line
1120
Warning
: preg_match(): Compilation failed: invalid range in character class at offset 4 in
/home/mjojaznb/domains/foodfashionblog.com/public_html/wp-content/plugins/lightbox-plus/classes/shd.class.php
on line
1120
Warning
: preg_match(): Compilation failed: invalid range in character class at offset 4 in
/home/mjojaznb/domains/foodfashionblog.com/public_html/wp-content/plugins/lightbox-plus/classes/shd.class.php
on line
1120
Warning
: preg_match(): Compilation failed: invalid range in character class at offset 4 in
/home/mjojaznb/domains/foodfashionblog.com/public_html/wp-content/plugins/lightbox-plus/classes/shd.class.php
on line
1120
Warning
: preg_match(): Compilation failed: invalid range in character class at offset 4 in
/home/mjojaznb/domains/foodfashionblog.com/public_html/wp-content/plugins/lightbox-plus/classes/shd.class.php
on line
1120
Warning
: preg_match(): Compilation failed: invalid range in character class at offset 4 in
/home/mjojaznb/domains/foodfashionblog.com/public_html/wp-content/plugins/lightbox-plus/classes/shd.class.php
on line
1120
Warning
: preg_match(): Compilation failed: invalid range in character class at offset 4 in
/home/mjojaznb/domains/foodfashionblog.com/public_html/wp-content/plugins/lightbox-plus/classes/shd.class.php
on line
1120
Warning
: preg_match(): Compilation failed: invalid range in character class at offset 4 in
/home/mjojaznb/domains/foodfashionblog.com/public_html/wp-content/plugins/lightbox-plus/classes/shd.class.php
on line
1120
Warning
: preg_match(): Compilation failed: invalid range in character class at offset 4 in
/home/mjojaznb/domains/foodfashionblog.com/public_html/wp-content/plugins/lightbox-plus/classes/shd.class.php
on line
1120
Warning
: preg_match(): Compilation failed: invalid range in character class at offset 4 in
/home/mjojaznb/domains/foodfashionblog.com/public_html/wp-content/plugins/lightbox-plus/classes/shd.class.php
on line
1120
Warning
: preg_match(): Compilation failed: invalid range in character class at offset 4 in
/home/mjojaznb/domains/foodfashionblog.com/public_html/wp-content/plugins/lightbox-plus/classes/shd.class.php
on line
1120
Warning
: preg_match(): Compilation failed: invalid range in character class at offset 4 in
/home/mjojaznb/domains/foodfashionblog.com/public_html/wp-content/plugins/lightbox-plus/classes/shd.class.php
on line
1120
Warning
: preg_match(): Compilation failed: invalid range in character class at offset 4 in
/home/mjojaznb/domains/foodfashionblog.com/public_html/wp-content/plugins/lightbox-plus/classes/shd.class.php
on line
1120
Warning
: preg_match(): Compilation failed: invalid range in character class at offset 4 in
/home/mjojaznb/domains/foodfashionblog.com/public_html/wp-content/plugins/lightbox-plus/classes/shd.class.php
on line
1120
Warning
: preg_match(): Compilation failed: invalid range in character class at offset 4 in
/home/mjojaznb/domains/foodfashionblog.com/public_html/wp-content/plugins/lightbox-plus/classes/shd.class.php
on line
1120
Warning
: preg_match(): Compilation failed: invalid range in character class at offset 4 in
/home/mjojaznb/domains/foodfashionblog.com/public_html/wp-content/plugins/lightbox-plus/classes/shd.class.php
on line
1120
Warning
: preg_match(): Compilation failed: invalid range in character class at offset 4 in
/home/mjojaznb/domains/foodfashionblog.com/public_html/wp-content/plugins/lightbox-plus/classes/shd.class.php
on line
1120
Warning
: preg_match(): Compilation failed: invalid range in character class at offset 4 in
/home/mjojaznb/domains/foodfashionblog.com/public_html/wp-content/plugins/lightbox-plus/classes/shd.class.php
on line
1120
Warning
: preg_match(): Compilation failed: invalid range in character class at offset 4 in
/home/mjojaznb/domains/foodfashionblog.com/public_html/wp-content/plugins/lightbox-plus/classes/shd.class.php
on line
1120
Warning
: preg_match(): Compilation failed: invalid range in character class at offset 4 in
/home/mjojaznb/domains/foodfashionblog.com/public_html/wp-content/plugins/lightbox-plus/classes/shd.class.php
on line
1120
Warning
: preg_match(): Compilation failed: invalid range in character class at offset 4 in
/home/mjojaznb/domains/foodfashionblog.com/public_html/wp-content/plugins/lightbox-plus/classes/shd.class.php
on line
1120
Warning
: preg_match(): Compilation failed: invalid range in character class at offset 4 in
/home/mjojaznb/domains/foodfashionblog.com/public_html/wp-content/plugins/lightbox-plus/classes/shd.class.php
on line
1120
Warning
: preg_match(): Compilation failed: invalid range in character class at offset 4 in
/home/mjojaznb/domains/foodfashionblog.com/public_html/wp-content/plugins/lightbox-plus/classes/shd.class.php
on line
1120
Warning
: preg_match(): Compilation failed: invalid range in character class at offset 4 in
/home/mjojaznb/domains/foodfashionblog.com/public_html/wp-content/plugins/lightbox-plus/classes/shd.class.php
on line
1120
Warning
: preg_match(): Compilation failed: invalid range in character class at offset 4 in
/home/mjojaznb/domains/foodfashionblog.com/public_html/wp-content/plugins/lightbox-plus/classes/shd.class.php
on line
1120
Warning
: preg_match(): Compilation failed: invalid range in character class at offset 4 in
/home/mjojaznb/domains/foodfashionblog.com/public_html/wp-content/plugins/lightbox-plus/classes/shd.class.php
on line
1120
Warning
: preg_match(): Compilation failed: invalid range in character class at offset 4 in
/home/mjojaznb/domains/foodfashionblog.com/public_html/wp-content/plugins/lightbox-plus/classes/shd.class.php
on line
1120
Warning
: preg_match(): Compilation failed: invalid range in character class at offset 4 in
/home/mjojaznb/domains/foodfashionblog.com/public_html/wp-content/plugins/lightbox-plus/classes/shd.class.php
on line
1120
Warning
: preg_match(): Compilation failed: invalid range in character class at offset 4 in
/home/mjojaznb/domains/foodfashionblog.com/public_html/wp-content/plugins/lightbox-plus/classes/shd.class.php
on line
1120
Warning
: preg_match(): Compilation failed: invalid range in character class at offset 4 in
/home/mjojaznb/domains/foodfashionblog.com/public_html/wp-content/plugins/lightbox-plus/classes/shd.class.php
on line
1120
Warning
: preg_match(): Compilation failed: invalid range in character class at offset 4 in
/home/mjojaznb/domains/foodfashionblog.com/public_html/wp-content/plugins/lightbox-plus/classes/shd.class.php
on line
1120
Warning
: preg_match(): Compilation failed: invalid range in character class at offset 4 in
/home/mjojaznb/domains/foodfashionblog.com/public_html/wp-content/plugins/lightbox-plus/classes/shd.class.php
on line
1120
Warning
: preg_match(): Compilation failed: invalid range in character class at offset 4 in
/home/mjojaznb/domains/foodfashionblog.com/public_html/wp-content/plugins/lightbox-plus/classes/shd.class.php
on line
1120
Warning
: preg_match(): Compilation failed: invalid range in character class at offset 4 in
/home/mjojaznb/domains/foodfashionblog.com/public_html/wp-content/plugins/lightbox-plus/classes/shd.class.php
on line
1120
Warning
: preg_match(): Compilation failed: invalid range in character class at offset 4 in
/home/mjojaznb/domains/foodfashionblog.com/public_html/wp-content/plugins/lightbox-plus/classes/shd.class.php
on line
1120
Warning
: preg_match(): Compilation failed: invalid range in character class at offset 4 in
/home/mjojaznb/domains/foodfashionblog.com/public_html/wp-content/plugins/lightbox-plus/classes/shd.class.php
on line
1120
Warning
: preg_match(): Compilation failed: invalid range in character class at offset 4 in
/home/mjojaznb/domains/foodfashionblog.com/public_html/wp-content/plugins/lightbox-plus/classes/shd.class.php
on line
1120
Warning
: preg_match(): Compilation failed: invalid range in character class at offset 4 in
/home/mjojaznb/domains/foodfashionblog.com/public_html/wp-content/plugins/lightbox-plus/classes/shd.class.php
on line
1120
Warning
: preg_match(): Compilation failed: invalid range in character class at offset 4 in
/home/mjojaznb/domains/foodfashionblog.com/public_html/wp-content/plugins/lightbox-plus/classes/shd.class.php
on line
1120
Warning
: preg_match(): Compilation failed: invalid range in character class at offset 4 in
/home/mjojaznb/domains/foodfashionblog.com/public_html/wp-content/plugins/lightbox-plus/classes/shd.class.php
on line
1120
Warning
: preg_match(): Compilation failed: invalid range in character class at offset 4 in
/home/mjojaznb/domains/foodfashionblog.com/public_html/wp-content/plugins/lightbox-plus/classes/shd.class.php
on line
1120
Warning
: preg_match(): Compilation failed: invalid range in character class at offset 4 in
/home/mjojaznb/domains/foodfashionblog.com/public_html/wp-content/plugins/lightbox-plus/classes/shd.class.php
on line
1120
Warning
: preg_match(): Compilation failed: invalid range in character class at offset 4 in
/home/mjojaznb/domains/foodfashionblog.com/public_html/wp-content/plugins/lightbox-plus/classes/shd.class.php
on line
1120
Warning
: preg_match(): Compilation failed: invalid range in character class at offset 4 in
/home/mjojaznb/domains/foodfashionblog.com/public_html/wp-content/plugins/lightbox-plus/classes/shd.class.php
on line
1120
Warning
: preg_match(): Compilation failed: invalid range in character class at offset 4 in
/home/mjojaznb/domains/foodfashionblog.com/public_html/wp-content/plugins/lightbox-plus/classes/shd.class.php
on line
1120
Warning
: preg_match(): Compilation failed: invalid range in character class at offset 4 in
/home/mjojaznb/domains/foodfashionblog.com/public_html/wp-content/plugins/lightbox-plus/classes/shd.class.php
on line
1120
Warning
: preg_match(): Compilation failed: invalid range in character class at offset 4 in
/home/mjojaznb/domains/foodfashionblog.com/public_html/wp-content/plugins/lightbox-plus/classes/shd.class.php
on line
1120
Warning
: preg_match(): Compilation failed: invalid range in character class at offset 4 in
/home/mjojaznb/domains/foodfashionblog.com/public_html/wp-content/plugins/lightbox-plus/classes/shd.class.php
on line
1120
Warning
: preg_match(): Compilation failed: invalid range in character class at offset 4 in
/home/mjojaznb/domains/foodfashionblog.com/public_html/wp-content/plugins/lightbox-plus/classes/shd.class.php
on line
1120
Warning
: preg_match(): Compilation failed: invalid range in character class at offset 4 in
/home/mjojaznb/domains/foodfashionblog.com/public_html/wp-content/plugins/lightbox-plus/classes/shd.class.php
on line
1120
Warning
: preg_match(): Compilation failed: invalid range in character class at offset 4 in
/home/mjojaznb/domains/foodfashionblog.com/public_html/wp-content/plugins/lightbox-plus/classes/shd.class.php
on line
1120
Warning
: preg_match(): Compilation failed: invalid range in character class at offset 4 in
/home/mjojaznb/domains/foodfashionblog.com/public_html/wp-content/plugins/lightbox-plus/classes/shd.class.php
on line
1120
Warning
: preg_match(): Compilation failed: invalid range in character class at offset 4 in
/home/mjojaznb/domains/foodfashionblog.com/public_html/wp-content/plugins/lightbox-plus/classes/shd.class.php
on line
1120
Warning
: preg_match(): Compilation failed: invalid range in character class at offset 4 in
/home/mjojaznb/domains/foodfashionblog.com/public_html/wp-content/plugins/lightbox-plus/classes/shd.class.php
on line
1120
Warning
: preg_match(): Compilation failed: invalid range in character class at offset 4 in
/home/mjojaznb/domains/foodfashionblog.com/public_html/wp-content/plugins/lightbox-plus/classes/shd.class.php
on line
1120
Warning
: preg_match(): Compilation failed: invalid range in character class at offset 4 in
/home/mjojaznb/domains/foodfashionblog.com/public_html/wp-content/plugins/lightbox-plus/classes/shd.class.php
on line
1120
Warning
: preg_match(): Compilation failed: invalid range in character class at offset 4 in
/home/mjojaznb/domains/foodfashionblog.com/public_html/wp-content/plugins/lightbox-plus/classes/shd.class.php
on line
1120
Warning
: preg_match(): Compilation failed: invalid range in character class at offset 4 in
/home/mjojaznb/domains/foodfashionblog.com/public_html/wp-content/plugins/lightbox-plus/classes/shd.class.php
on line
1120
Warning
: preg_match(): Compilation failed: invalid range in character class at offset 4 in
/home/mjojaznb/domains/foodfashionblog.com/public_html/wp-content/plugins/lightbox-plus/classes/shd.class.php
on line
1120
Warning
: preg_match(): Compilation failed: invalid range in character class at offset 4 in
/home/mjojaznb/domains/foodfashionblog.com/public_html/wp-content/plugins/lightbox-plus/classes/shd.class.php
on line
1120
Warning
: preg_match(): Compilation failed: invalid range in character class at offset 4 in
/home/mjojaznb/domains/foodfashionblog.com/public_html/wp-content/plugins/lightbox-plus/classes/shd.class.php
on line
1120
Warning
: preg_match(): Compilation failed: invalid range in character class at offset 4 in
/home/mjojaznb/domains/foodfashionblog.com/public_html/wp-content/plugins/lightbox-plus/classes/shd.class.php
on line
1120
Warning
: preg_match(): Compilation failed: invalid range in character class at offset 4 in
/home/mjojaznb/domains/foodfashionblog.com/public_html/wp-content/plugins/lightbox-plus/classes/shd.class.php
on line
1120
Warning
: preg_match(): Compilation failed: invalid range in character class at offset 4 in
/home/mjojaznb/domains/foodfashionblog.com/public_html/wp-content/plugins/lightbox-plus/classes/shd.class.php
on line
1120
Warning
: preg_match(): Compilation failed: invalid range in character class at offset 4 in
/home/mjojaznb/domains/foodfashionblog.com/public_html/wp-content/plugins/lightbox-plus/classes/shd.class.php
on line
1120
Warning
: preg_match(): Compilation failed: invalid range in character class at offset 4 in
/home/mjojaznb/domains/foodfashionblog.com/public_html/wp-content/plugins/lightbox-plus/classes/shd.class.php
on line
1120
Warning
: preg_match(): Compilation failed: invalid range in character class at offset 4 in
/home/mjojaznb/domains/foodfashionblog.com/public_html/wp-content/plugins/lightbox-plus/classes/shd.class.php
on line
1120
Warning
: preg_match(): Compilation failed: invalid range in character class at offset 4 in
/home/mjojaznb/domains/foodfashionblog.com/public_html/wp-content/plugins/lightbox-plus/classes/shd.class.php
on line
1120
Warning
: preg_match(): Compilation failed: invalid range in character class at offset 4 in
/home/mjojaznb/domains/foodfashionblog.com/public_html/wp-content/plugins/lightbox-plus/classes/shd.class.php
on line
1120
Warning
: preg_match_all(): Compilation failed: invalid range in character class at offset 4 in
/home/mjojaznb/domains/foodfashionblog.com/public_html/wp-content/plugins/lightbox-plus/classes/shd.class.php
on line
621
Warning
: Invalid argument supplied for foreach() in
/home/mjojaznb/domains/foodfashionblog.com/public_html/wp-content/plugins/lightbox-plus/classes/shd.class.php
on line
628
Warning
: preg_match_all(): Compilation failed: invalid range in character class at offset 4 in
/home/mjojaznb/domains/foodfashionblog.com/public_html/wp-content/plugins/lightbox-plus/classes/shd.class.php
on line
621
Warning
: Invalid argument supplied for foreach() in
/home/mjojaznb/domains/foodfashionblog.com/public_html/wp-content/plugins/lightbox-plus/classes/shd.class.php
on line
628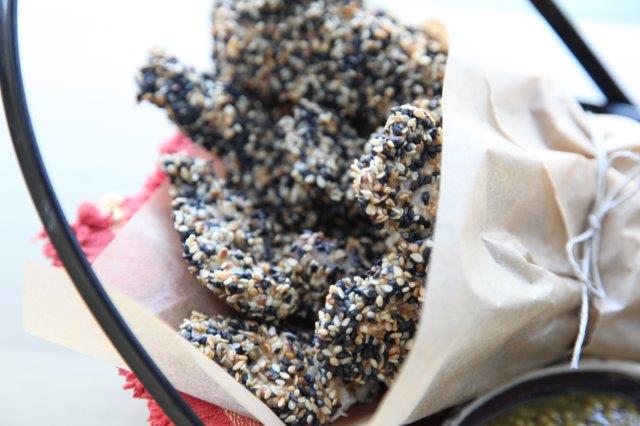 Wkrótce Dzień Babci i Dzień Dziadka. Mam dla Was pomysły na świetne kulinarne prezenty: słodkie ciasto buraczkowo–czekoladowe z tego przepisu lub coś na słono. Chcecie zaskoczyć dziadków prostym, zdrowym, efektownym i smacznym daniem? No to proszę: indyk w sezamie, który dostał od moich znajomych przydomek "że palce lizać". Można podawać go na ciepło, ale świetnie smakuje też na zimno z sosem musztardowym z zieloną herbatą.
Indyk w sezamie
300 g piersi z indyka (ewentualnie kurczaka)
Marynata:
1 łyżka sosu sojowego
1 łyżeczka startego na tarce imbiru
1 starty na tarce ząbek czosnku
1 łyżka sake (wina ryżowego)
1 łyżeczka miodu
Do panierki:
Po 5 łyżki sezamu białego i sezamu czarnego
Sos:
1 łyżka musztardy z ziarnami gorczycy
2 łyżki oliwy
1 łyżeczka zielonej herbaty w proszku, tzw. matcha
1 łyżeczka cukru
1 łyżka octu ryżowego (najlepiej japońskiego)
1 łyżeczka soli 
Indyka myjemy, osuszamy i kroimy w poprzek włókien mięśniowych na kawałki o długości ok. 10-15 cm i grubości ok. 2 cm. Mieszamy wszystkie składniki marynaty i wkładamy do niej indyka. Trzymać w lodówce minimum przez godzinę (najlepiej wstawić na całą noc). 
Mieszamy biały i czarny sezam na talerzu, indyka panierujemy w sezamie. Ilość sezamu może się trochę zmienić, w zależności od wielkości kawałków: im mniejsze, tym więcej będziemy potrzebować sezamu. Przy panierowaniu nie pozostawiamy miejsc bez sezamu, każdy kawałek indyka powinien być dokładnie pokryty sezamem. Sezam na koniec trzeba docisnąć, a nadmiar delikatnie otrząsnąć.
I teraz są 2 szkoły: można usmażyć indyka na patelni lub upiec w piekarniku. Przy smażeniu zawsze trochę sezamu wpada do oleju, dlatego wolę upiec indyka w piekarniku. Wykładamy blaszkę papierem do pieczenia i smarujemy cienko olejem, rozkładamy indyka zachowując odstępy przynajmniej 2 -3 cm.
Wstawiamy do piekarnika nagrzanego do 180 stopni na około 15-18 minut. Blaszka powinna znajdować się w połowie piekarnika tylko wyżej, pod górnym grzaniem, ponieważ kawałki są małe i zależy nam na szybkim upieczeniu i zarumienieniu sezamu. Dodatkowo warto włączyć termoobieg wtedy sezam szybciej się zrumieni. Na koniec przygotowujemy sos: wystarczy wymieszać wszystkie składniki, przy czym trzeba uważać na to, żeby z zielonej herbaty nie zrobiły się grudki, najlepiej przesiać ją i stopniowo połączyć z oliwą a potem dodać resztę składników.
Smacznego! – Gwarantuję, że nie tylko dziadkowie będą zachwyceni!
Uwaga dla leniwych:
Jeżeli nie mamy ochoty tarkować imbiru i czosnku, to składniki marynaty możemy utrzeć w moździerzu.
On the 21st January in Poland we celebrate Grandmother's Day and on 22nd January Grandfather's Day. Here are my ideas for eatable presents. Not only for your Grandparents. How about delicious chocolate & beetroot mini cakes I presented some time ago?
Or you could cook super easy, delicious & healty turkey stripes in sesame seeds with mustard & green tea sauce. It can be eaten hot or cold. Please have a try, you will love this dish.
Turkey in sesame:
300 g turkey breast (or chicken)
Marinade:
2 tsp salt
1 tsp grated ginger
1 tsp grated garlic
1 tsp sake rice wine
1 tsp honey
Coating:
5 tbsp white sesame
5 tbsp black sesame
Sauce:
1 tbsp whole grain mustard
2 tbsp olive oil
1 tsp matcha green tea powder
1 tsp sugar
1 tbsp rice vinegar (preferably Japanese)
1 or 2 tbsp soya sauce (depending on how salty you want the sauce to be)
Wash, dry and cut turkey breast crosswise into 10-15cm long and about 2 cm wide long slices. Combine all marinade ingriedients and pour over the turkey slices. Marinade for at least one hour, but you can also marinate the turkey overnight in a fridge.
If you do not feel like grating garlic and ginger you can grate all the marinade ingriedients in mortar. Mix white & black sesame seeds on a plate, coat the turkey stripes in them. Do not leave uncovered spaces on the turkey, it should be thoroughly coated. Press the sesame with your hands so it stays on the turkey, at the end you can shake delicatly the excess sesame. You can now either fry the turkey stripes or bake it in the oven. Because some seeds might fall off while frying I prefer to bake it.Place turkey pieces (leaving at least 2 cm spaces in between) on a baking tray covered with baking paper, coated with little oil. Bake in the oven preheated to 180 degrees for about 15 minutes.
In the end mix all of a sauce ingriedients. Make sure to mix the matcha green tea by sifting it gradualy with olive oil, this way you do not get any lumps. Enjoy!