Warning
: preg_match(): Compilation failed: invalid range in character class at offset 4 in
/home/mjojaznb/domains/foodfashionblog.com/public_html/wp-content/plugins/lightbox-plus/classes/shd.class.php
on line
1120
Warning
: preg_match(): Compilation failed: invalid range in character class at offset 4 in
/home/mjojaznb/domains/foodfashionblog.com/public_html/wp-content/plugins/lightbox-plus/classes/shd.class.php
on line
1120
Warning
: preg_match(): Compilation failed: invalid range in character class at offset 4 in
/home/mjojaznb/domains/foodfashionblog.com/public_html/wp-content/plugins/lightbox-plus/classes/shd.class.php
on line
1120
Warning
: preg_match(): Compilation failed: invalid range in character class at offset 4 in
/home/mjojaznb/domains/foodfashionblog.com/public_html/wp-content/plugins/lightbox-plus/classes/shd.class.php
on line
1120
Warning
: preg_match(): Compilation failed: invalid range in character class at offset 4 in
/home/mjojaznb/domains/foodfashionblog.com/public_html/wp-content/plugins/lightbox-plus/classes/shd.class.php
on line
1120
Warning
: preg_match(): Compilation failed: invalid range in character class at offset 4 in
/home/mjojaznb/domains/foodfashionblog.com/public_html/wp-content/plugins/lightbox-plus/classes/shd.class.php
on line
1120
Warning
: preg_match(): Compilation failed: invalid range in character class at offset 4 in
/home/mjojaznb/domains/foodfashionblog.com/public_html/wp-content/plugins/lightbox-plus/classes/shd.class.php
on line
1120
Warning
: preg_match(): Compilation failed: invalid range in character class at offset 4 in
/home/mjojaznb/domains/foodfashionblog.com/public_html/wp-content/plugins/lightbox-plus/classes/shd.class.php
on line
1120
Warning
: preg_match(): Compilation failed: invalid range in character class at offset 4 in
/home/mjojaznb/domains/foodfashionblog.com/public_html/wp-content/plugins/lightbox-plus/classes/shd.class.php
on line
1120
Warning
: preg_match(): Compilation failed: invalid range in character class at offset 4 in
/home/mjojaznb/domains/foodfashionblog.com/public_html/wp-content/plugins/lightbox-plus/classes/shd.class.php
on line
1120
Warning
: preg_match(): Compilation failed: invalid range in character class at offset 4 in
/home/mjojaznb/domains/foodfashionblog.com/public_html/wp-content/plugins/lightbox-plus/classes/shd.class.php
on line
1120
Warning
: preg_match(): Compilation failed: invalid range in character class at offset 4 in
/home/mjojaznb/domains/foodfashionblog.com/public_html/wp-content/plugins/lightbox-plus/classes/shd.class.php
on line
1120
Warning
: preg_match(): Compilation failed: invalid range in character class at offset 4 in
/home/mjojaznb/domains/foodfashionblog.com/public_html/wp-content/plugins/lightbox-plus/classes/shd.class.php
on line
1120
Warning
: preg_match(): Compilation failed: invalid range in character class at offset 4 in
/home/mjojaznb/domains/foodfashionblog.com/public_html/wp-content/plugins/lightbox-plus/classes/shd.class.php
on line
1120
Warning
: preg_match(): Compilation failed: invalid range in character class at offset 4 in
/home/mjojaznb/domains/foodfashionblog.com/public_html/wp-content/plugins/lightbox-plus/classes/shd.class.php
on line
1120
Warning
: preg_match(): Compilation failed: invalid range in character class at offset 4 in
/home/mjojaznb/domains/foodfashionblog.com/public_html/wp-content/plugins/lightbox-plus/classes/shd.class.php
on line
1120
Warning
: preg_match(): Compilation failed: invalid range in character class at offset 4 in
/home/mjojaznb/domains/foodfashionblog.com/public_html/wp-content/plugins/lightbox-plus/classes/shd.class.php
on line
1120
Warning
: preg_match(): Compilation failed: invalid range in character class at offset 4 in
/home/mjojaznb/domains/foodfashionblog.com/public_html/wp-content/plugins/lightbox-plus/classes/shd.class.php
on line
1120
Warning
: preg_match(): Compilation failed: invalid range in character class at offset 4 in
/home/mjojaznb/domains/foodfashionblog.com/public_html/wp-content/plugins/lightbox-plus/classes/shd.class.php
on line
1120
Warning
: preg_match(): Compilation failed: invalid range in character class at offset 4 in
/home/mjojaznb/domains/foodfashionblog.com/public_html/wp-content/plugins/lightbox-plus/classes/shd.class.php
on line
1120
Warning
: preg_match(): Compilation failed: invalid range in character class at offset 4 in
/home/mjojaznb/domains/foodfashionblog.com/public_html/wp-content/plugins/lightbox-plus/classes/shd.class.php
on line
1120
Warning
: preg_match(): Compilation failed: invalid range in character class at offset 4 in
/home/mjojaznb/domains/foodfashionblog.com/public_html/wp-content/plugins/lightbox-plus/classes/shd.class.php
on line
1120
Warning
: preg_match(): Compilation failed: invalid range in character class at offset 4 in
/home/mjojaznb/domains/foodfashionblog.com/public_html/wp-content/plugins/lightbox-plus/classes/shd.class.php
on line
1120
Warning
: preg_match(): Compilation failed: invalid range in character class at offset 4 in
/home/mjojaznb/domains/foodfashionblog.com/public_html/wp-content/plugins/lightbox-plus/classes/shd.class.php
on line
1120
Warning
: preg_match(): Compilation failed: invalid range in character class at offset 4 in
/home/mjojaznb/domains/foodfashionblog.com/public_html/wp-content/plugins/lightbox-plus/classes/shd.class.php
on line
1120
Warning
: preg_match(): Compilation failed: invalid range in character class at offset 4 in
/home/mjojaznb/domains/foodfashionblog.com/public_html/wp-content/plugins/lightbox-plus/classes/shd.class.php
on line
1120
Warning
: preg_match(): Compilation failed: invalid range in character class at offset 4 in
/home/mjojaznb/domains/foodfashionblog.com/public_html/wp-content/plugins/lightbox-plus/classes/shd.class.php
on line
1120
Warning
: preg_match(): Compilation failed: invalid range in character class at offset 4 in
/home/mjojaznb/domains/foodfashionblog.com/public_html/wp-content/plugins/lightbox-plus/classes/shd.class.php
on line
1120
Warning
: preg_match(): Compilation failed: invalid range in character class at offset 4 in
/home/mjojaznb/domains/foodfashionblog.com/public_html/wp-content/plugins/lightbox-plus/classes/shd.class.php
on line
1120
Warning
: preg_match(): Compilation failed: invalid range in character class at offset 4 in
/home/mjojaznb/domains/foodfashionblog.com/public_html/wp-content/plugins/lightbox-plus/classes/shd.class.php
on line
1120
Warning
: preg_match(): Compilation failed: invalid range in character class at offset 4 in
/home/mjojaznb/domains/foodfashionblog.com/public_html/wp-content/plugins/lightbox-plus/classes/shd.class.php
on line
1120
Warning
: preg_match(): Compilation failed: invalid range in character class at offset 4 in
/home/mjojaznb/domains/foodfashionblog.com/public_html/wp-content/plugins/lightbox-plus/classes/shd.class.php
on line
1120
Warning
: preg_match(): Compilation failed: invalid range in character class at offset 4 in
/home/mjojaznb/domains/foodfashionblog.com/public_html/wp-content/plugins/lightbox-plus/classes/shd.class.php
on line
1120
Warning
: preg_match(): Compilation failed: invalid range in character class at offset 4 in
/home/mjojaznb/domains/foodfashionblog.com/public_html/wp-content/plugins/lightbox-plus/classes/shd.class.php
on line
1120
Warning
: preg_match(): Compilation failed: invalid range in character class at offset 4 in
/home/mjojaznb/domains/foodfashionblog.com/public_html/wp-content/plugins/lightbox-plus/classes/shd.class.php
on line
1120
Warning
: preg_match(): Compilation failed: invalid range in character class at offset 4 in
/home/mjojaznb/domains/foodfashionblog.com/public_html/wp-content/plugins/lightbox-plus/classes/shd.class.php
on line
1120
Warning
: preg_match(): Compilation failed: invalid range in character class at offset 4 in
/home/mjojaznb/domains/foodfashionblog.com/public_html/wp-content/plugins/lightbox-plus/classes/shd.class.php
on line
1120
Warning
: preg_match(): Compilation failed: invalid range in character class at offset 4 in
/home/mjojaznb/domains/foodfashionblog.com/public_html/wp-content/plugins/lightbox-plus/classes/shd.class.php
on line
1120
Warning
: preg_match(): Compilation failed: invalid range in character class at offset 4 in
/home/mjojaznb/domains/foodfashionblog.com/public_html/wp-content/plugins/lightbox-plus/classes/shd.class.php
on line
1120
Warning
: preg_match(): Compilation failed: invalid range in character class at offset 4 in
/home/mjojaznb/domains/foodfashionblog.com/public_html/wp-content/plugins/lightbox-plus/classes/shd.class.php
on line
1120
Warning
: preg_match(): Compilation failed: invalid range in character class at offset 4 in
/home/mjojaznb/domains/foodfashionblog.com/public_html/wp-content/plugins/lightbox-plus/classes/shd.class.php
on line
1120
Warning
: preg_match(): Compilation failed: invalid range in character class at offset 4 in
/home/mjojaznb/domains/foodfashionblog.com/public_html/wp-content/plugins/lightbox-plus/classes/shd.class.php
on line
1120
Warning
: preg_match_all(): Compilation failed: invalid range in character class at offset 4 in
/home/mjojaznb/domains/foodfashionblog.com/public_html/wp-content/plugins/lightbox-plus/classes/shd.class.php
on line
621
Warning
: Invalid argument supplied for foreach() in
/home/mjojaznb/domains/foodfashionblog.com/public_html/wp-content/plugins/lightbox-plus/classes/shd.class.php
on line
628
Warning
: preg_match_all(): Compilation failed: invalid range in character class at offset 4 in
/home/mjojaznb/domains/foodfashionblog.com/public_html/wp-content/plugins/lightbox-plus/classes/shd.class.php
on line
621
Warning
: Invalid argument supplied for foreach() in
/home/mjojaznb/domains/foodfashionblog.com/public_html/wp-content/plugins/lightbox-plus/classes/shd.class.php
on line
628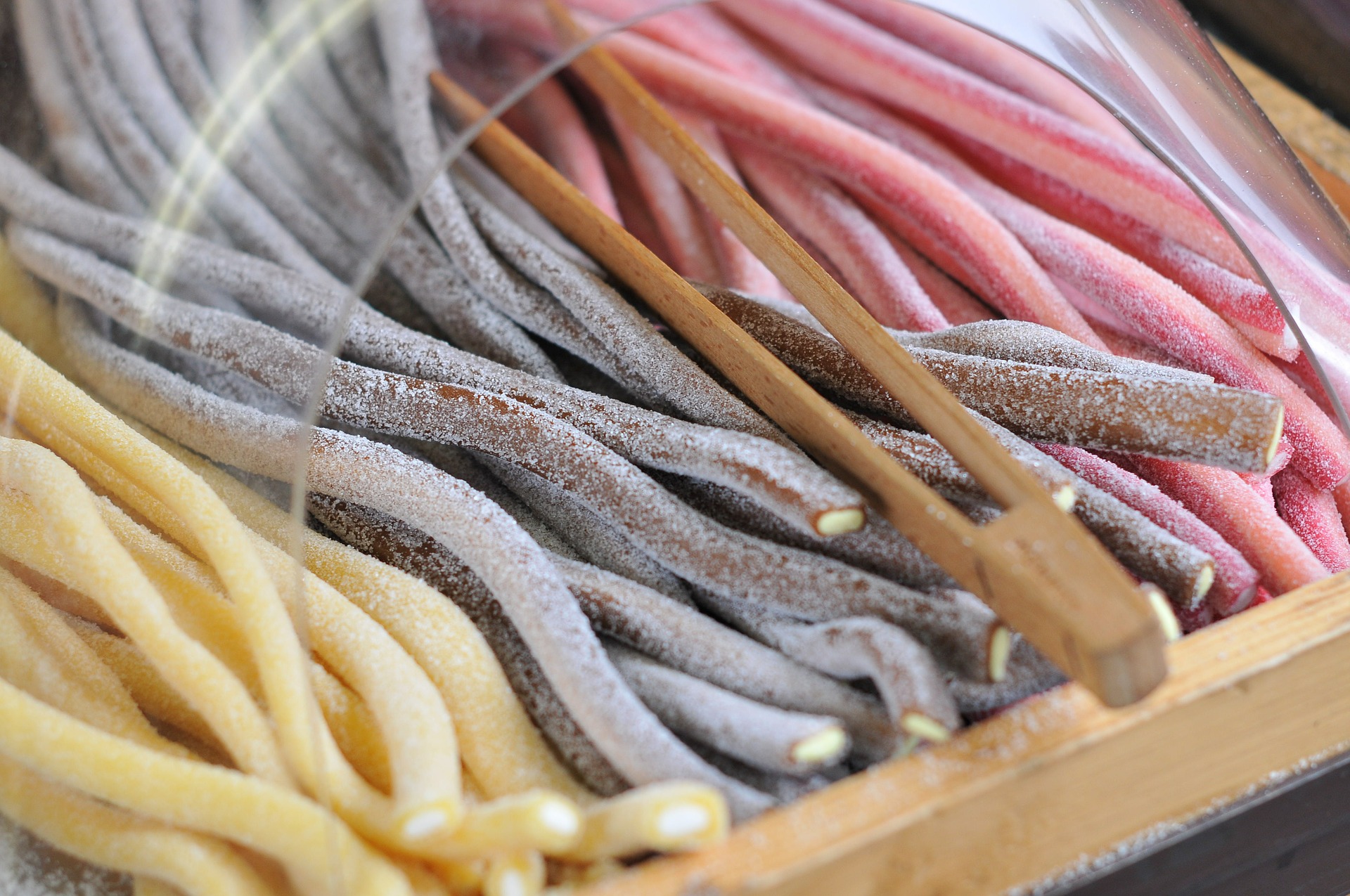 W dzisiejszych czasach spożywamy coraz większe ilości cukru, co może mieć negatywny wpływ na nasze życie i zdrowie. Nie należy jednak z niego całkowicie rezygnować! Pamiętajmy, że cukier jest również w produktach pochodzenia naturalnego. Apeluję jedynie o umiar, bo coraz więcej osób w naszym społeczeństwie traktuje cukier jako podstawowy składnik swojej diety. Nawet słodycze są dla ludzi. W tym wszystkim najważniejszy jest zdrowy rozsądek i zrozumienie potrzeb własnego organizmu. 
Osłabia szkliwo zębów i prowadzi do próchnicy
O ile cukier z naturalnych źródeł ma niewielki wpływ na stan naszych zębów, o tyle sztuczny cukier, szczególnie ten ze słodyczy, może przynieść nam wiele strat. Wpływ na to ma również konsystencja spożywanych produktów. Jeśli zjemy lepkie słodycze, które mogą osadzać się na zębach, to powinniśmy w miarę możliwości chwycić za szczoteczkę. Jeśli tego nie zrobimy, to stworzymy w naszej buzi bardzo dogodne warunki do rozwoju próchnicy. 
Uzależnia
Serge Ahmed z instytutu w Bordeaux jest jednym z największych specjalistów ds. uzależnień od narkotyków. Za pomocą doświadczeń udowodnił, że cukier uzależnia kilkakrotnie mocniej niż kokaina. Podobne badania, które potwierdziły tę tezę, przeprowadzano na całym świecie,  Przez wiele lat cukier był towarem luksusowym. Dopiero XX wiek przyniósł znaczący wzrost spożycia cukru. W czasach PRL-u narzędzia propagandy sugerowały nawet spożywanie cukru pod wieloma absurdalnymi argumentami. Ludzie temu ulegali, bo nie mieli w tamtych czasach dostępu do sprawdzonych źródeł informacji. 
Źródło: mbrzegowy.blogspot.com
Szkodzi naszej cerze
Dieta wpływa na jakość naszej cery. Pewne produkty zawierają składniki (tj. witaminy, błonnik i cynk), które ją poprawiają, ale są także i ciemne strony jedzenia. Są produkty, które w swoim składzie mają duże ilości cukru, który wspiera pojawianie się trądziku. Jeśli chcemy poprawić stan naszej cery, powinniśmy najpierw przeanalizować posiłki spożywane w trakcie dnia, wprowadzić pewne korekty, a dopiero później zastanowić się nad wizytą u dermatologa. 
Sprzyja otyłości
Każdy z nas ma odpowiednią ilość kalorii, którą powinien dostarczać organizmowi w ciągu dnia. Jeśli w dłuższej perspektywie będzie niedobór kalorii – będziemy chudnąć. Jeśli będziemy przyjmować więcej, niż nasz organizm potrzebuje – będzie budować masę mięśniową lub tłuszczową – w zależności od aktywności fizycznej i rodzaju przyjmowanego pokarmu (ilość makroskładników – węglowodany, tłuszcze, białka). Produkty, które zawierają duże ilości cukru są bardzo kaloryczne. Cukier wpływa również na wzrost poziomu glukozy we krwi. Jeśli energia nie jest organizmowi potrzebna w danym momencie, to insulina szybko ten poziom obniża i następuje magazynowanie energii w postaci tkanki tłuszczowej.
Ma bardzo negatywny wpływ na działanie mózgu
Badacze z Macquarie University w Sydney udowodnili, że słodkie napoje spożywane w nadmiarze mogą zwiększać ryzyko choroby Alzheimera. Badania pokazały również zwiększone prawdopodobieństwo powstawania nowotworów.
Źródła:
http://www.unidentunion.pl/leczenie/podstawowe-leczenie-stomatologiczne/prochnica
https://portal.abczdrowie.pl/dieta-na-tradzik
http://nauka.newsweek.pl/cukier-uzaleznia,88768,1,1.html
http://www.rp.pl/artykul/700374.html