Warning
: preg_match(): Compilation failed: invalid range in character class at offset 4 in
/home/mjojaznb/domains/foodfashionblog.com/public_html/wp-content/plugins/lightbox-plus/classes/shd.class.php
on line
1120
Warning
: preg_match(): Compilation failed: invalid range in character class at offset 4 in
/home/mjojaznb/domains/foodfashionblog.com/public_html/wp-content/plugins/lightbox-plus/classes/shd.class.php
on line
1120
Warning
: preg_match(): Compilation failed: invalid range in character class at offset 4 in
/home/mjojaznb/domains/foodfashionblog.com/public_html/wp-content/plugins/lightbox-plus/classes/shd.class.php
on line
1120
Warning
: preg_match(): Compilation failed: invalid range in character class at offset 4 in
/home/mjojaznb/domains/foodfashionblog.com/public_html/wp-content/plugins/lightbox-plus/classes/shd.class.php
on line
1120
Warning
: preg_match(): Compilation failed: invalid range in character class at offset 4 in
/home/mjojaznb/domains/foodfashionblog.com/public_html/wp-content/plugins/lightbox-plus/classes/shd.class.php
on line
1120
Warning
: preg_match(): Compilation failed: invalid range in character class at offset 4 in
/home/mjojaznb/domains/foodfashionblog.com/public_html/wp-content/plugins/lightbox-plus/classes/shd.class.php
on line
1120
Warning
: preg_match(): Compilation failed: invalid range in character class at offset 4 in
/home/mjojaznb/domains/foodfashionblog.com/public_html/wp-content/plugins/lightbox-plus/classes/shd.class.php
on line
1120
Warning
: preg_match(): Compilation failed: invalid range in character class at offset 4 in
/home/mjojaznb/domains/foodfashionblog.com/public_html/wp-content/plugins/lightbox-plus/classes/shd.class.php
on line
1120
Warning
: preg_match(): Compilation failed: invalid range in character class at offset 4 in
/home/mjojaznb/domains/foodfashionblog.com/public_html/wp-content/plugins/lightbox-plus/classes/shd.class.php
on line
1120
Warning
: preg_match(): Compilation failed: invalid range in character class at offset 4 in
/home/mjojaznb/domains/foodfashionblog.com/public_html/wp-content/plugins/lightbox-plus/classes/shd.class.php
on line
1120
Warning
: preg_match(): Compilation failed: invalid range in character class at offset 4 in
/home/mjojaznb/domains/foodfashionblog.com/public_html/wp-content/plugins/lightbox-plus/classes/shd.class.php
on line
1120
Warning
: preg_match(): Compilation failed: invalid range in character class at offset 4 in
/home/mjojaznb/domains/foodfashionblog.com/public_html/wp-content/plugins/lightbox-plus/classes/shd.class.php
on line
1120
Warning
: preg_match(): Compilation failed: invalid range in character class at offset 4 in
/home/mjojaznb/domains/foodfashionblog.com/public_html/wp-content/plugins/lightbox-plus/classes/shd.class.php
on line
1120
Warning
: preg_match(): Compilation failed: invalid range in character class at offset 4 in
/home/mjojaznb/domains/foodfashionblog.com/public_html/wp-content/plugins/lightbox-plus/classes/shd.class.php
on line
1120
Warning
: preg_match(): Compilation failed: invalid range in character class at offset 4 in
/home/mjojaznb/domains/foodfashionblog.com/public_html/wp-content/plugins/lightbox-plus/classes/shd.class.php
on line
1120
Warning
: preg_match(): Compilation failed: invalid range in character class at offset 4 in
/home/mjojaznb/domains/foodfashionblog.com/public_html/wp-content/plugins/lightbox-plus/classes/shd.class.php
on line
1120
Warning
: preg_match(): Compilation failed: invalid range in character class at offset 4 in
/home/mjojaznb/domains/foodfashionblog.com/public_html/wp-content/plugins/lightbox-plus/classes/shd.class.php
on line
1120
Warning
: preg_match(): Compilation failed: invalid range in character class at offset 4 in
/home/mjojaznb/domains/foodfashionblog.com/public_html/wp-content/plugins/lightbox-plus/classes/shd.class.php
on line
1120
Warning
: preg_match(): Compilation failed: invalid range in character class at offset 4 in
/home/mjojaznb/domains/foodfashionblog.com/public_html/wp-content/plugins/lightbox-plus/classes/shd.class.php
on line
1120
Warning
: preg_match(): Compilation failed: invalid range in character class at offset 4 in
/home/mjojaznb/domains/foodfashionblog.com/public_html/wp-content/plugins/lightbox-plus/classes/shd.class.php
on line
1120
Warning
: preg_match(): Compilation failed: invalid range in character class at offset 4 in
/home/mjojaznb/domains/foodfashionblog.com/public_html/wp-content/plugins/lightbox-plus/classes/shd.class.php
on line
1120
Warning
: preg_match(): Compilation failed: invalid range in character class at offset 4 in
/home/mjojaznb/domains/foodfashionblog.com/public_html/wp-content/plugins/lightbox-plus/classes/shd.class.php
on line
1120
Warning
: preg_match(): Compilation failed: invalid range in character class at offset 4 in
/home/mjojaznb/domains/foodfashionblog.com/public_html/wp-content/plugins/lightbox-plus/classes/shd.class.php
on line
1120
Warning
: preg_match(): Compilation failed: invalid range in character class at offset 4 in
/home/mjojaznb/domains/foodfashionblog.com/public_html/wp-content/plugins/lightbox-plus/classes/shd.class.php
on line
1120
Warning
: preg_match(): Compilation failed: invalid range in character class at offset 4 in
/home/mjojaznb/domains/foodfashionblog.com/public_html/wp-content/plugins/lightbox-plus/classes/shd.class.php
on line
1120
Warning
: preg_match(): Compilation failed: invalid range in character class at offset 4 in
/home/mjojaznb/domains/foodfashionblog.com/public_html/wp-content/plugins/lightbox-plus/classes/shd.class.php
on line
1120
Warning
: preg_match(): Compilation failed: invalid range in character class at offset 4 in
/home/mjojaznb/domains/foodfashionblog.com/public_html/wp-content/plugins/lightbox-plus/classes/shd.class.php
on line
1120
Warning
: preg_match(): Compilation failed: invalid range in character class at offset 4 in
/home/mjojaznb/domains/foodfashionblog.com/public_html/wp-content/plugins/lightbox-plus/classes/shd.class.php
on line
1120
Warning
: preg_match(): Compilation failed: invalid range in character class at offset 4 in
/home/mjojaznb/domains/foodfashionblog.com/public_html/wp-content/plugins/lightbox-plus/classes/shd.class.php
on line
1120
Warning
: preg_match(): Compilation failed: invalid range in character class at offset 4 in
/home/mjojaznb/domains/foodfashionblog.com/public_html/wp-content/plugins/lightbox-plus/classes/shd.class.php
on line
1120
Warning
: preg_match(): Compilation failed: invalid range in character class at offset 4 in
/home/mjojaznb/domains/foodfashionblog.com/public_html/wp-content/plugins/lightbox-plus/classes/shd.class.php
on line
1120
Warning
: preg_match(): Compilation failed: invalid range in character class at offset 4 in
/home/mjojaznb/domains/foodfashionblog.com/public_html/wp-content/plugins/lightbox-plus/classes/shd.class.php
on line
1120
Warning
: preg_match(): Compilation failed: invalid range in character class at offset 4 in
/home/mjojaznb/domains/foodfashionblog.com/public_html/wp-content/plugins/lightbox-plus/classes/shd.class.php
on line
1120
Warning
: preg_match(): Compilation failed: invalid range in character class at offset 4 in
/home/mjojaznb/domains/foodfashionblog.com/public_html/wp-content/plugins/lightbox-plus/classes/shd.class.php
on line
1120
Warning
: preg_match(): Compilation failed: invalid range in character class at offset 4 in
/home/mjojaznb/domains/foodfashionblog.com/public_html/wp-content/plugins/lightbox-plus/classes/shd.class.php
on line
1120
Warning
: preg_match(): Compilation failed: invalid range in character class at offset 4 in
/home/mjojaznb/domains/foodfashionblog.com/public_html/wp-content/plugins/lightbox-plus/classes/shd.class.php
on line
1120
Warning
: preg_match(): Compilation failed: invalid range in character class at offset 4 in
/home/mjojaznb/domains/foodfashionblog.com/public_html/wp-content/plugins/lightbox-plus/classes/shd.class.php
on line
1120
Warning
: preg_match(): Compilation failed: invalid range in character class at offset 4 in
/home/mjojaznb/domains/foodfashionblog.com/public_html/wp-content/plugins/lightbox-plus/classes/shd.class.php
on line
1120
Warning
: preg_match(): Compilation failed: invalid range in character class at offset 4 in
/home/mjojaznb/domains/foodfashionblog.com/public_html/wp-content/plugins/lightbox-plus/classes/shd.class.php
on line
1120
Warning
: preg_match(): Compilation failed: invalid range in character class at offset 4 in
/home/mjojaznb/domains/foodfashionblog.com/public_html/wp-content/plugins/lightbox-plus/classes/shd.class.php
on line
1120
Warning
: preg_match(): Compilation failed: invalid range in character class at offset 4 in
/home/mjojaznb/domains/foodfashionblog.com/public_html/wp-content/plugins/lightbox-plus/classes/shd.class.php
on line
1120
Warning
: preg_match(): Compilation failed: invalid range in character class at offset 4 in
/home/mjojaznb/domains/foodfashionblog.com/public_html/wp-content/plugins/lightbox-plus/classes/shd.class.php
on line
1120
Warning
: preg_match(): Compilation failed: invalid range in character class at offset 4 in
/home/mjojaznb/domains/foodfashionblog.com/public_html/wp-content/plugins/lightbox-plus/classes/shd.class.php
on line
1120
Warning
: preg_match(): Compilation failed: invalid range in character class at offset 4 in
/home/mjojaznb/domains/foodfashionblog.com/public_html/wp-content/plugins/lightbox-plus/classes/shd.class.php
on line
1120
Warning
: preg_match(): Compilation failed: invalid range in character class at offset 4 in
/home/mjojaznb/domains/foodfashionblog.com/public_html/wp-content/plugins/lightbox-plus/classes/shd.class.php
on line
1120
Warning
: preg_match(): Compilation failed: invalid range in character class at offset 4 in
/home/mjojaznb/domains/foodfashionblog.com/public_html/wp-content/plugins/lightbox-plus/classes/shd.class.php
on line
1120
Warning
: preg_match_all(): Compilation failed: invalid range in character class at offset 4 in
/home/mjojaznb/domains/foodfashionblog.com/public_html/wp-content/plugins/lightbox-plus/classes/shd.class.php
on line
621
Warning
: Invalid argument supplied for foreach() in
/home/mjojaznb/domains/foodfashionblog.com/public_html/wp-content/plugins/lightbox-plus/classes/shd.class.php
on line
628
Warning
: preg_match_all(): Compilation failed: invalid range in character class at offset 4 in
/home/mjojaznb/domains/foodfashionblog.com/public_html/wp-content/plugins/lightbox-plus/classes/shd.class.php
on line
621
Warning
: Invalid argument supplied for foreach() in
/home/mjojaznb/domains/foodfashionblog.com/public_html/wp-content/plugins/lightbox-plus/classes/shd.class.php
on line
628
Znacie komosę? Na wsiach nazywana jest czasem lebiodą. Najpopularniejsza w Polsce jest komosa biała. To takie zielsko. Nie mylić z komosą ryżową quinoa! Wyobraźcie sobie, że zielsko komosa jest jadalne i smaczne. Jedzenia komosy nauczyła mnie moja przyjaciółka Nepalka. 
Podobno jadano ją też w Europie, szczególnie w czasie głodu i niedostatku, podczas I i II WŚ.  Tu możecie poczytać więcej o komosie >>> KLIK <<<
W moim ogródku niestety często coś co posiałam czy zasadziłam, nie wyrasta… natomiast komosa i mniszek lekarski rosną sobie nie wysiewane, nie podlewane i nie pielone, tak po prostu! A więc od wiosny korzystam z tych jadalnych darów natury. Z liści mniszka robię wyborne sałatki, z kwiatów miodek, a z komosy curry. Właśnie nazbierałam w ogródku spory pęczek!
Najlepsza jest młoda komosa, taka do 10 centymetrów. Większa też się nada, ale wtedy lepiej oderwać liście a twarde łodyżki wyrzucić. Moja komosa była malutka, więc wykorzystam ją w całości. 
Zrobię z niej cudownie aromatyczne curry inspirowane Indiami. Jest przepyszne, a wystarczy wrzucić wszystko do garnka i gotowe. W wersji wegańskiej, źródłem białka w tym curry jest ciecierzyca. I tu musicie pamiętać, aby ją zamoczyć na kilka godzin, a potem gotować przez ok. 1 godzinę. 
ok. 150 g ciecierzycy
250 g komosy
2 łyżki przyprawy curry
1 łyżka nasion kuminu
ok. 4 łyżki oleju do smażenia
3 cebule
3 pomidory
2 łyżeczki przecieru pomidorowego 
2 łyżki soli 
1 łyżka chilli w proszku (pikantnego, jeśli lubicie)
5 ząbków czosnku
1 łyżka kurkumy
ok. 700 ml wody
ksylitol do smaku 
Na bardzo mocno rozgrzany olej wrzucamy ziarna kuminu, smażymy przez minutę, aż staną się aromatyczne. Dodajemy drobno posiekaną cebulę, czosnek, kurkumę, chilli w proszku i przyprawę curry. Smażymy mieszając, cebulka musi się dobrze usmażyć, potrwa to jakieś 5-6 minut. Potem dodajemy ugotowaną i odcedzoną ciecierzycę oraz 1 łyżkę soli, pomidory, przecier pomidorowy. Zalewamy wodą i gotujemy pod przykryciem ok. 30 minut, aż pomidory utworzą sos.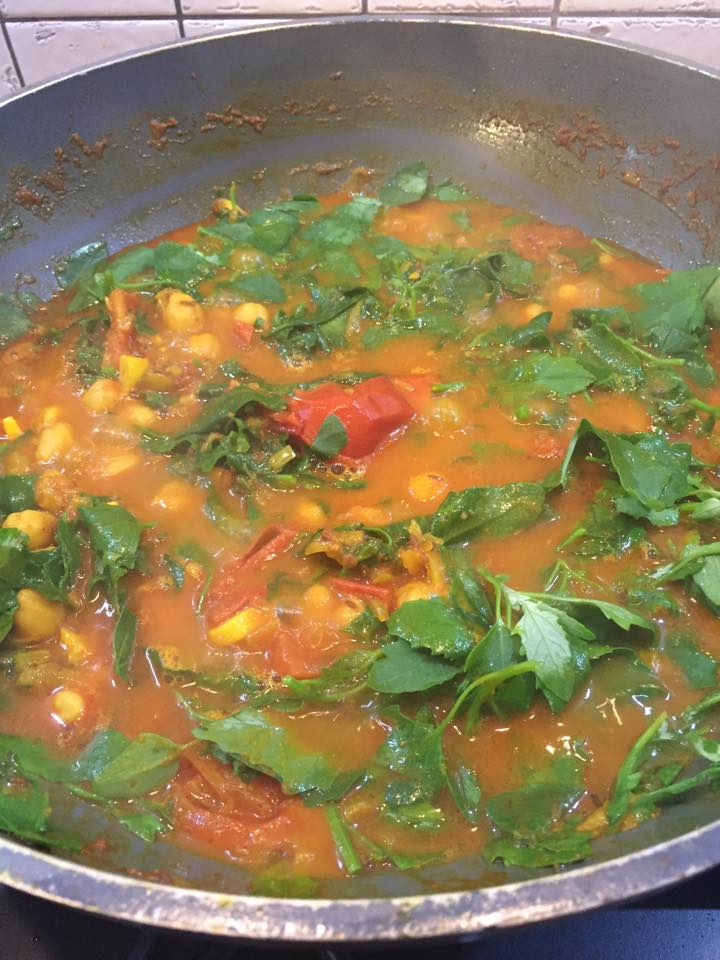 Na koniec wkładamy umytą i pokrojoną komosę, gotujemy jakieś 5 minut aż zmięknie i doprawiamy solą, można też odrobiną ksylitolu do smaku. (Ja lubię słone, stąd na koniec dosoliłam jeszcze jedną łyżką).  Podajemy z ryżem albo chlebkami, np. naan lub roti.